Noticing Compassion at a Refugee Camp – Rwanda Part 1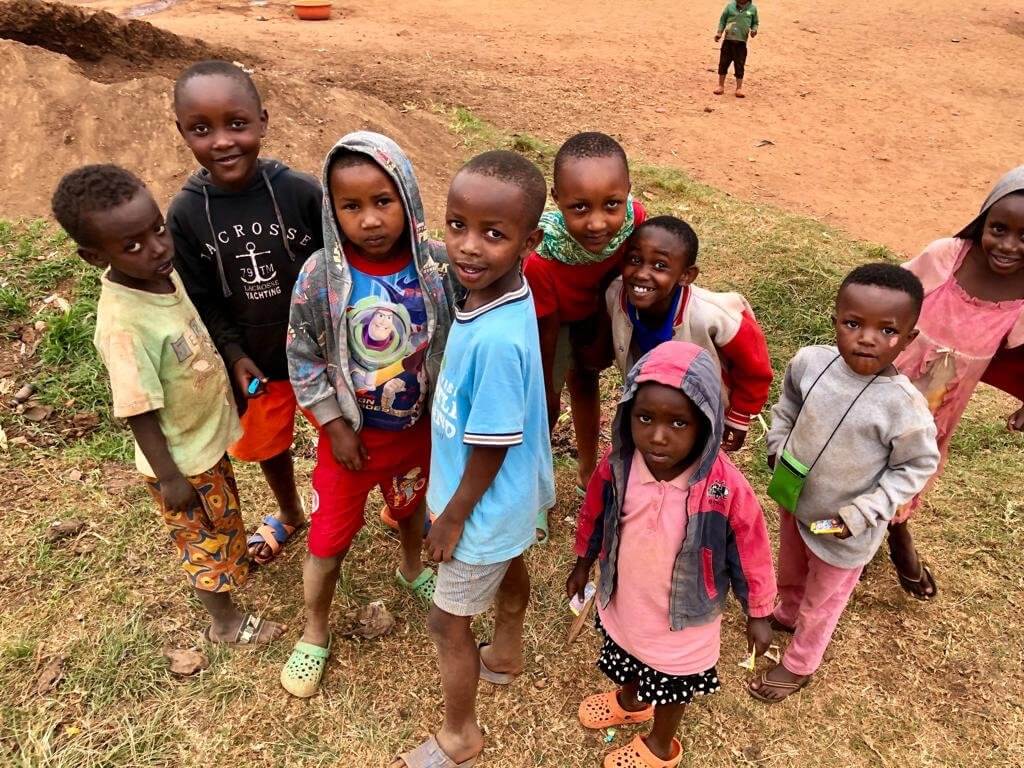 When I was invited by the nonprofit organization, Alight, to help figure out how to unleash compassion within refugee camps, I couldn't say no. Our world is in the midst of a refugee crisis, and it's not going away. 
According to the United Nations Refugee Agency, the population of displaced people rose to an all-time high of 70.8 million in 2018. Violence, persecution, human rights violations, and conflicts force people to leave their homes, and many of them become refugees.
Alight serves over 3.5 million refugees in 17 countries and realized that meeting basic needs of refugees isn't enough. According to Alight,
"Understanding that a life is about so much more than simply satisfying basic needs, we're working on how best to help the people we serve find connection, purpose and joy in the challenging situations they find themselves in today."
My Compassion It teammate, Burrell Poe, and I joined a bright team of thinkers for a week at the Gihembe refugee camp in northern
Rwanda. Our team used a human-centered design process to figure out how to best unleash compassion within the camp's healthcare system. We hoped to come up with ideas that Alight could pilot, fine-tune, and scale globally.
As we embarked upon each step of the design process throughout the week, I noticed compassion emerging every step of the way.
This is how compassion showed up during my week in the Gihembe refugee camp.
1 – Compassion looked like inclusion
The LAST thing a refugee camp needs is a bunch of Americans intruding their space and telling people what to do.
That's why our design team included the Congolese residents of the Gihembe camp as well as some of the Rwandan healthcare providers who serve them. How could we possibly create solutions to problems if we're not including the end users? The variety of ages, expertise, backgrounds, and ethnicities met under the same umbrella of compassion, and we formed one heckuva dream team.
2 – Compassion looked like empathy (

plus action)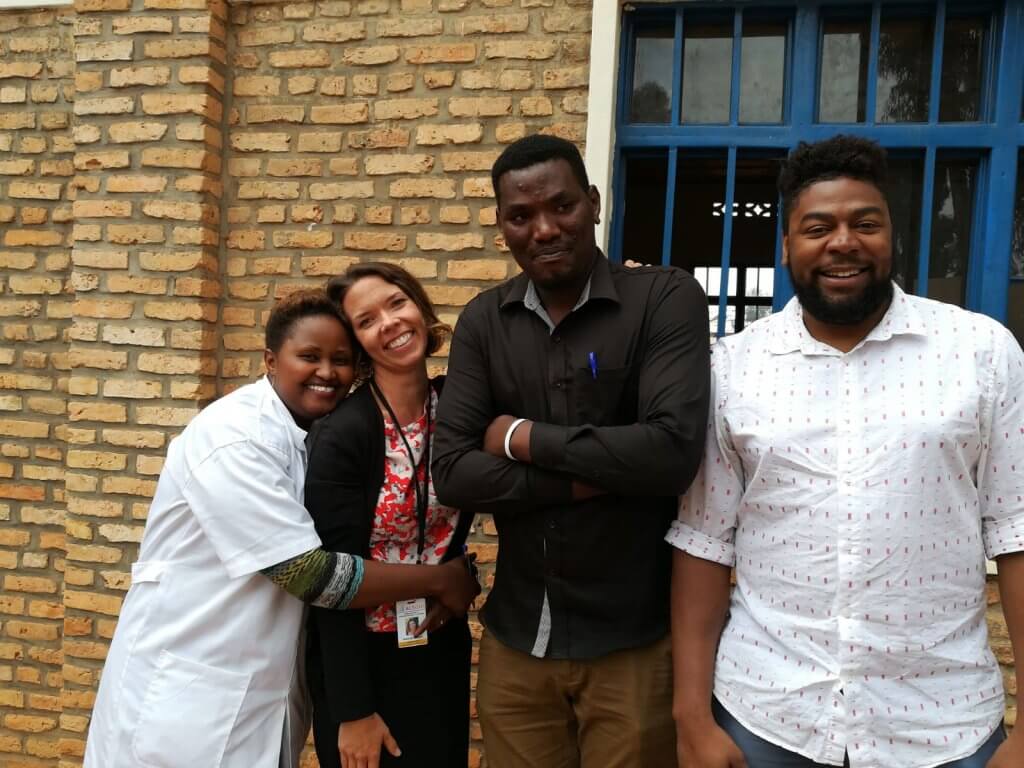 This past April marked the 25thanniversary of the Rwandan genocide against the Tutsis. One million Rwandans died in only 100 days.
Many Rwandans became refugees before, during, and after the genocide against the Tutsis, and they experienced not only the atrocities of genocide but also the power of compassion. They can put themselves in the shoes of refugees, and they extend their hands to help. (Read this inspiring story about the empathy of Rwandans.)
*Read this touching story about empathy shared by one of my Rwandan teammates.
3 – Compassion looked like listening
A two-person design team from the medical technology company Medtronic, Mark Powell and Dipanjan Chatterjee, led us through a human-centered design process to help us develop ideas for unleashing compassion within the refugee camp.
What's the first step of the process? We began by empathizing with the clients through observation and listening. Team members split up to interview and observe the Rwandan healthcare providers as well as the clients. 
The empathy piece of the design process truly helped me put myself in the shoes of the healthcare providers and their clients, and it set the stage for the rest of the week.
4 – Compassion looked like fun!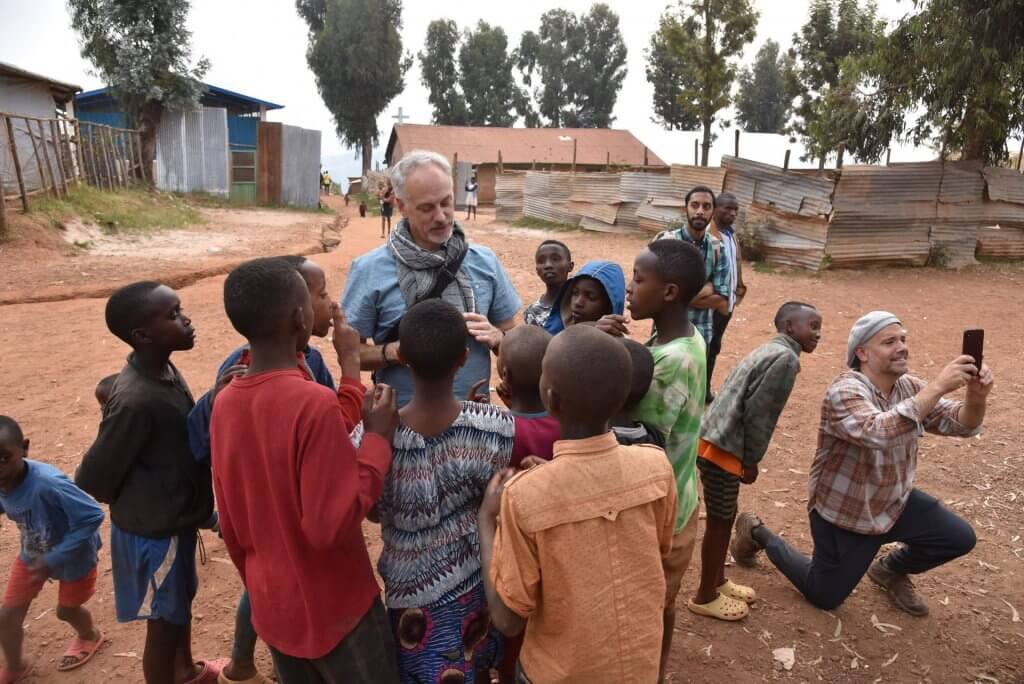 My hands-down favorite part of the experience was dancing* with my teammates. Each day, someone would play Rwandan or Congolese music, and our teammates moved to the center of the room and danced. I tried my very best to learn their traditional dances, and they patiently taught me the footsteps and hand movements. We laughed, moved, and sang together.
I also loved watching my fellow teammates connect with the camp residents.  David Roesel, MD, led a "Simon Says" dance for many of the children who had gathered nearby. You would not believe the smiles on those sweet faces. I wish I could have bottled their laughter!
*Research indicates that synchronized movements help cultivate compassion, so of course this was my favorite part!
5 – Compassion also looked serious
We spent an afternoon touring Gihembe and learning more about what it's like to be a refugee. The camp, which has existed since 1996 and houses 13,000 Congolese residents, sits upon orange dirt without paved roads. "Temporary" homes are built out of clay with tarp roofs, despite the fact that residents have lived there for decades.  Humanitarian service providers must construct refugee camps under certain guidelines, and can only build homes as temporary dwellings.
Children played with a soccer ball made of rags. Their library lacked books, and the youth center doesn't offer programs anymore.
We observed the challenges that refugees face at the camp, and I couldn't help but imagine what it would be like to uproot my family and live with thousands of others who don't have a place to call home. There's no way to hold back empathy and compassion when you experience this first-hand.
6 – Compassion looked like innovation and accountability
Alight's innovative Kuja Kuja digital platform offers real-time feedback from camp residents in order to take immediate action. It collects data at various places throughout camp, like water stations and healthcare clinics. Clients rate their services and offer suggestions for improvement. We had the opportunity to watch the weekly Kuja Kuja "Innovation Hour," in which the team examines feedback from the field and figures out how to address the problems. 
See the real-time data collected by Kuja Kuja in refugee camps throughout the world on this data map: https://alight.kujakuja.com/datamap.
In conclusion…
Our team shared an intense, wonderful, and life-altering week together. We intended to find ways to unleash compassion into a humanitarian system that has, historically, focused solely on meeting basic human needs. It's no small feat, and I'm proud of what we created.
One of the front-running ideas that came out of our week is the idea to build a non-denominational chapel within the healthcare facility. It can serve as a much-needed quiet place for patients, their families, and the healthcare providers. (That brilliant  idea came from Silas, who is a Gihembe resident!)
Read about our other ideas to unleash compassion at Gihembe.
If Alight and other organizations can implement and scale some of our compassionate solutions, the effect can impact millions of displaced people around the world. I truly believe we're creating a ripple that will extend and reach us all.
Martin Luther King, Jr., said it best in his 1967 Christmas sermon on peace:
"It really boils down to this: that all life is interrelated. We are all caught in an inescapable network of mutuality, tied into a single garment of destiny. Whatever affects one directly, affects all indirectly. We are made to live together because of the interrelated structure of reality."
***Want to help? Just Compassion It! Learn more and support Alight's efforts to unleash compassion in refugee healthcare. 
---
About Compassion It
Compassion It is a nonprofit whose mission is to spread compassion and inspire compassionate actions through workplace training, personal development training, tools, and content. We envision a world where compassion is practiced by every person, for every person, on every day.
Learn how to "Compassion It" and build a more compassionate world. Share our mission and become a Compassion It Advocate.
Also, did you know we offer compassion training for your workplace? Learn how our training can reduce burnout, help your organization's bottom line, and foster a more compassionate workplace.