13 Compassion It Highlights from '17
What a year it has been! Thanks to so many of you, we have brought Compassion It into homes, workplaces, schools, universities, jails, prisons, and even the United States Senate.
Check out our top highlights from this past year:
1 – Inmates joined our 30-Day Compassion It Challenge
Thanks to partnerships with the Prison Yoga Project and Brilliance Inside, we brought our 30-Day Challenge to inmates at Donovan Prison and San Diego County jails. If you haven't read these reflections written by inmates, please do.
2 – We brought "enemies" together!
We helped rival sports teams at Duke and the University of North Carolina bring the message of sportsmanship and compassion to their communities. Read more here.
3 – We helped refugee women gain freedom
Colette Fitzgerald and a Compassion It wristband prompted an INCREDIBLE ripple that freed two refugee women. This heartwarming story is a must-read!
4 – We spotted FAMOUS FOLKS wearing our wristbands
Yep, that's musician Jack Johnson and Val Gruener from the documentary Saving Sirga (filmed in Botswana). Both of these great guys are sporting Compassion It.
No biggie.
5 – Our message reached women in Pakistan
Zainab Faiza, a physician in Pakistan, has been using Compassion It resources to bring lessons of self-compassion and compassion to a squatter settlement in Karachi, Pakistan.
"It's incredible how they were all willing to look at the good side of things despite their circumstances. Thank you for your message!" – Zainab
6 – We launched the Advocate program
WE LOVE OUR ADVOCATES! Not only do Advocates support our efforts through monthly donations, they also receive lessons we create to help them lead a more compassionate lives.
Want to support our efforts AND cultivate more about compassion and self-compassion in your own life? Sign up as an Advocate today!
7 – Burrell inspired compassion in Chicago
Our Compassion It Chicago director, Burrell Poe, led various workshops in Chi-town, which included trainings for Americorps Volunteers at United Way Chicago. The volunteers reported how helpful the compassion training was for them in their workplace communities across the city, so he'll be back in 2018! Learn more about Burrell and his team's efforts here.
8 – We reached more K-12 students this year than ever before
Several schools used our wristbands and lesson plans, and we reached over 2,000 students in person through Compassion It assemblies and workshops in Southern California and Chicago. (We love this bulletin board from Del Sur Elementary in San Diego!)
9 – We helped cultivate compassionate workplaces
We led trainings for the YMCA, BuildOn, Allergan, Bridgepoint Education, San Diego Diplomacy Council, Tri Sigma national sorority, United Way Chicago, Public Allies Chicago, and also many educators.
We are expanding our corporate training programs in 2018, and we are super excited about this.
10 – Sara spoke at Creative Mornings
Sara shared her Compassion It story in front of an enthusiastic group of 500+ San Diego creatives, and her talk was featured in an email that went out globally to Creative Mornings members.  Scroll down to see Anne McColl's beautiful sketch of the talk! (Check out the talk here, and see beautiful photos of the talk by @stacykeck.)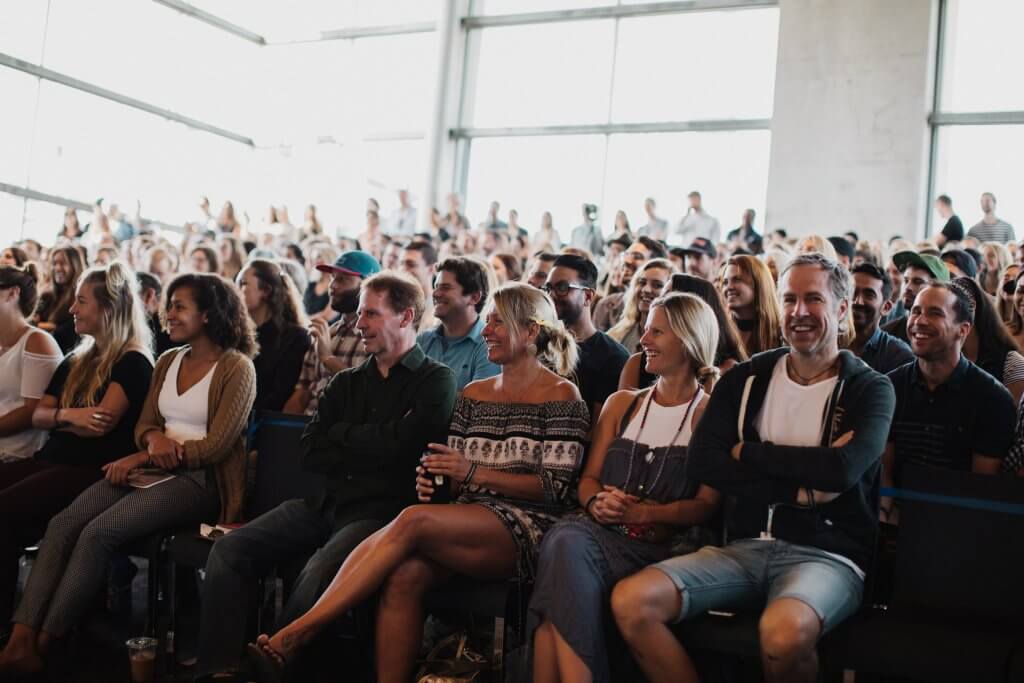 11 – We sent wristbands to U.S. Senators
Our campaign to create a more compassionate senate sent hundreds of wristbands to Capitol Hill.
12 – Sara continues to write for the Chopra Center
We're grateful for the opportunity to share the message of compassion with the Chopra Center audience.
13 – We launched our new website, and we launched our Amazon storefront!
These were big steps for us.
2018 – Bring it.
-Sara & the Compassion It team